Fellow writers are invited to describe how they avoid writing; they may even display their writing-avoidance achievements right here on this page.  
I'll go first.  
Pointless cross-stitching is, I've found, much better for this activity than TV-watching, floor-scrubbing, and mousing around on the web.   There's the pseudo creativity angle, plus the fact that you're making a surprise gift for a loved one, or even a passing acquaintance.   Hell, you could even sandbag a total stranger on the street.   Instead of a fistful of germy M&Ms, you could slip the unwitting  passerby  a one-of-a-kind wall decoration.   Below is a keepsake for my son, the fabulously talented jazz keyboardist Ed Kornhauser, who has yet to learn he's getting it.   I got the idea from his Facebook page.    I can't wait to see his face light up with joy.   Or possibly alarm. Next I'd love to do "Release the kraken," although I'm having trouble figuring out who would best benefit from such a memento.    The horizons are limitless!  
Look, if you're not going to join me, stop me.   It's up to you.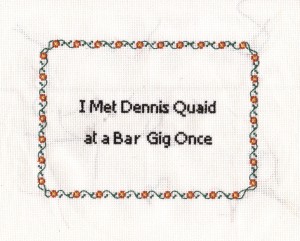 Note that artistic talent is completely optional.